Jurassic World: Dominion Dominates Fandom Wikis - The Loop
Play Sound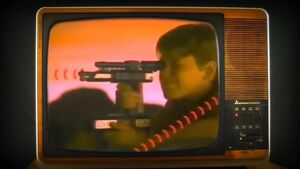 This article is regarding the 1986 action figure line, play sets, books and other products associated with the BraveStarr franchise.
Toys
[
]
The BraveStarr franchise was conceived by cartoon studio Filmation, but the television series would not be broadcast for a year after the toy line was released.
The toy line was manufactured by Mattel. Over $15 million worth of BraveStarr toys and accessories were shipped to stores in late 1986.[1]
Action figures included some of the central figures such as Marshal BraveStarr, Thirty/Thirty, Deputy Fuzz, and Handlebar. Villains included Tex Hex, Outlaw Scuzz, Thunder Stick, Colonel Borobot and Sand Storm. There were also some vehicles, such as a Turbo-Mule and Tex Hex's Skull Walker.
These figures were large for the time at nearly 8" tall and came in a windowed box with artwork similar to that of their Masters of the Universe contemporaries. Each figure had a unique action feature and was packaged with one or more kerium nuggets. Marshal BraveStarr and Tex Hex were also packaged with a Laser Fire Backpack which shot infrared beams and had "space-age" sound effects. Such backpacks were individually available – blue for heroes and black for villains.
Two large play sets were made of Fort Kerium and a smaller set of a Stratocoach hold-up. The Fort Kerium play set could be bought whole in one set or separately in three segments (the command center, the bank, and the jail cell).
Mattel was hit by weak sales of the the toy line.[2][3] A second toy line had been designed by Mattel, but was cancelled when Filmation shut down in 1989 and the second television series was cancelled. This second line would have included Judge J.B. McBride, Long Arm John, Rampage, Dingo Dan, and the Starr Hawk vehicle. Some independent toymakers have bootlegged this second toy line over the years, so some of them are occasionally available online.
Gallery
[
]
Other Merchandise
[
]
Various other forms of BraveStarr merchandise made their way to the market including a hand-held Neutra-Laser which emitted sounds and infrared beams.
Clothing included t-shirts and metal sheriff badges, the latter of which can now fetch hefty prices for collectors.
There was also a video game released for various home consoles in January 1988.
References
[
]