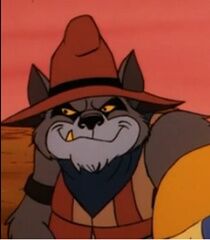 An overweight coyote that usually leads other coyotes in the battle.
And he is also known as gluttonous, obstinate, loathsome, discourteous, tactless, obnoxious, outlandish, thoughtless, hard-working, grouchy, obsessive, lion-hearted, deadly, testy, ominous, organized, tough and hot-headed.
Together with several other Dingoes, including Barker, Goldtooth operated a hidden Spin Factory situated just beyond Stone Canyon. There they fabricated the deadly drug called Spin, which they distributed in the Stone Canyon mining camps. Many miners became addicted and quickly lost their minds because of the drugs and had to be restrained by Marshal BraveStarr back in Fort Kerium. In this state, they were known as 'Spin-Heads'. (The Price)
Trivia
[
]
Goldtooth does not like to be called "Goldie", not even by his fellow Dingoes.[1]
Affiliation
[
]
Species
[
]
Dingo
Appearances
[
]
References
[
]