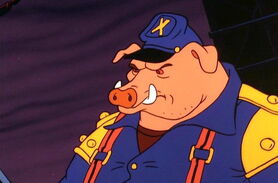 (Lou Scheimer): A humanoid pig dressed in a Union Army uniform. He seemed to be strong, and used bolas to capture or bind his victims.
Appearances
[
]
The Taking of Thistledown 123
The Witnesses
Episode 44: Tex but no Hex
Thirty/Thirty Goes Camping
The Haunted Shield
Episode 65: Strength of the Bear (none speaking role) - Hawgtie was part of Sand Storm's posse that ventured into the Badlands riding Turbo-Mule's.