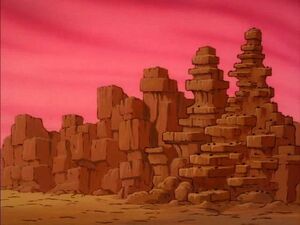 The Iron Mountains were located in the Badlands of New Texas. Dingo Llama lived there in a secluded cave surrounded by booby traps.
The Mountains were also riddled with Pom-Pom Spiders.
Section heading
Edit
Write the first section of your page here.
Appearances
Edit
Episode 46 Tex's Terrible Night (mention) Clame jumping,was reported in this area.
Episode 56: Call of the Wild - The Iron Mountains were guarded by Pom-Pom spiders. The Dingo Llama lived in seclusion in a cave in the Iron Mountains. Because he liked his privacy, the Llama booby trapped the entire surroundings of his cave.