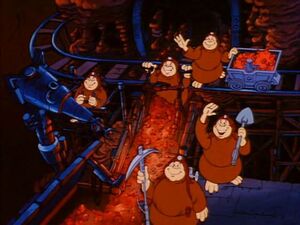 They are a native people of the planet New Texas were they mine Kerium and are great at digging underground, and a knack for fixing things.
Settlements
Edit
A found in tunnels all across New Texas
They are one of the Natives of New Texas many are miners that hunt for Kerium, a rare and powerful magical crystal, brings an infinite number of colonists from all corners of the galaxy.
Known Folks
Edit
Episode 12: Big Thirty and Little Wimble - Wimble was a young Prairie Person whose parents were far away. Prairie People Law allowed him to choose a new parent until the real ones returned. Wimble chose Thirty/Thirty.
References
Edit
Community content is available under
CC-BY-SA
unless otherwise noted.